Get up to 50% off ALL Product from a
"Company Whose Name I am not Allowed to Say Anymore!"

I am a very large wholesale customer of a very large jewelry supply "Company Whose Name I am not Allow to Say Anymore" and can charge you their super-low 100 unit price level no matter how small your order is! I then order the product into my shop daily and re-pack and re-ship it directly to you. Now you can buy wholesale beads in small quantities!
---
There is NO MINIMUM order to get these discounts
I order at ??? Company DAILY– no long wait for a "group" order
You will ALWAYS pay less through Jet Beads – GUARANTEED!!
---
Follow the Order Flow to see how easy it is to save money!!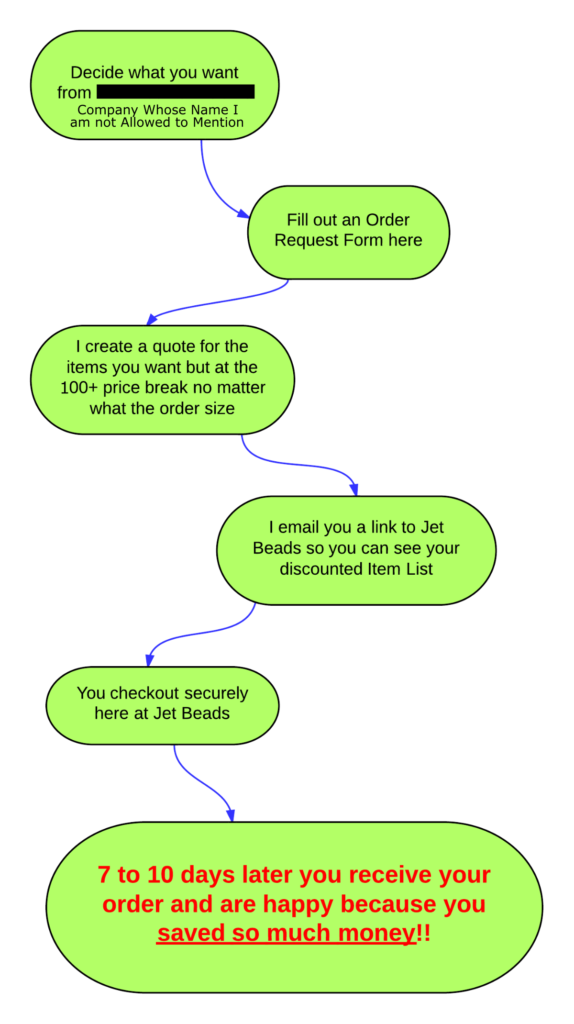 See the detailed "Guide to Ordering"
Get a Quick Quote to see what you'd save!!
If you are a current Jet Beads customer or just want to get an order placed please submit a regular Order Request Form.
---
Not ready to do anything yet? Subscribe to our Newsletter and receive
a monthly reminder about Jet Beads:
---
Don't believe me?? Too good to be true??
Read hundreds of positive comments from thousands of happy customers on my FaceBook Page.