Get up to 50% off ALL Fire Mountain Gems and Beads Product!

I am a very large wholesale customer of Fire Mountain Gems and Beads and can charge you their super-low 100 unit price level no matter how small your order is! I then order the product into my shop daily and re-pack and re-ship it directly to you. Now you can buy wholesale beads in small quantities!
---
There is NO MINIMUM order to get these discounts
I order at FMG DAILY– no long wait for a "group" order
You will ALWAYS pay less through Jet Beads – GUARANTEED!!
---
Follow the Order Flow to see how easy it is to save money!!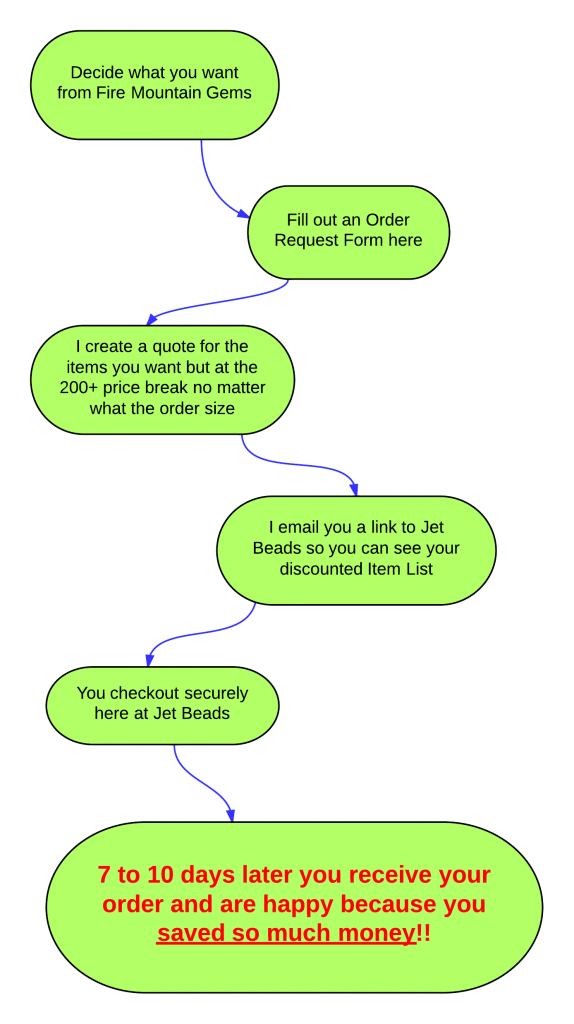 See the detailed "Guide to Ordering"
Get a Quick Quote to see what you'd save!!
Use this quick and easy form to see an example of what you'd save at Jet Beads. Just go to Fire Mountain, pick a few items you like and enter the Item IDs. I will generate a quick quote and email it back to you this is a 100% no-obligation info request!

You will ALWAYS pay the costs in the red column through Jet Beads!!
________________________________
 (These items are an example but the pricing rule applies to anything and everything at Fire Mountain!!)

Fire Mountain Gems has tiered pricing- the more items you buy the less you pay per item. If you buy direct from Fire Mountain you would need to buy 200 or more combined units of any items to get the cheapest prices.
 
Through Jet Beads you will ALWAYS get the cheapest 200+ price break level like in the red column for any and all items you want no matter what size order! So if you buy one single item you will pay the 200 unit break through Jet Beads and if you buy 199 items you'd pay that cost through Jet Beads. If you need 200 or more items I will discount your order by a straight 5%. In other words you will always pay less through Jet Beads!!
Find the items you need at Fire Mountain just look at that far right price column- that is what you would pay though me.
See the Guide to Ordering to find out how to easily place an order through Jet Beads.
(or CLICK HERE to get a faster picture of how the savings work!)
If you are a current Jet Beads customer or just want to get an order placed please submit a regular Order Request Form.
---
Not ready to do anything yet? Subscribe to our Newsletter and receive
a monthly reminder about Jet Beads:
---
Don't believe me?? Too good to be true??
Read hundreds of positive comments from thousands of happy customers on my FaceBook Page.